"We, the members of the THE SOVEREIGN GRACE BIBLE CHURCH OF CEBU, INC., a non-profit organization, do ordain and establish the following articles, to which we voluntarily submit ourselves."

ARTICLE 1: INSTITUTION

SECTION 1. GENERAL STATEMENT

A true Christian church as a divine institution, separate from the family and the state, is a definite group of Christ's disciples, distinguished both by being an ecclesiastical organization, constituted by their solemn ecclesiastical commitment to Christ, and by being a spiritual organism, animated by Christ's special presence with them, expressed by endowing them with the Holy Spirit, thereby consecrating them as a true temple and house of God (1 Cor. 3:17; 1 Tim 3:15; Rev. 2:5).

This article addresses our existence as an ecclesiastical institution. Our essential distinctiveness as an ecclesiastical institution is defined in Our Purpose.

SECTION 2. OUR ESSENTIAL DISTINCTIVES AS AN ECCLECIASTICAL INSTITUTION

Paragraph A. General Statement.

Our essential distinctives, which are each defined in the following paragraphs, are Our Name, Our Purpose, Our Doctrinal Commitment, Our Policy Commitment, and Our Civil Commitment.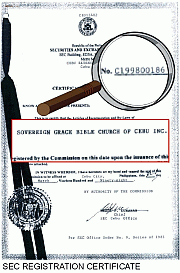 Paragraph B. Our Name.



The official name of this church is SOVEREIGN GRACE BIBLE CHURCH OF CEBU, INC.

Paragraph C. Our Purpose.

The general ecclesiastical design and purpose of the Sovereign Grace Bible Church is to walk together in ecclesiastical life and practice, to be and do everything Christ, in the scriptures, wills of the church, whether respecting our existence as an institution, our membership, our leadership, our commission, our order, our assemblies, or our associations.



Paragraph D. Our Doctrinal Commitment.


The Identity of Our Articles of Faith. We adopt as our articles of faith and doctrinal statement the London Baptist Confession of Faith in 1689 (or the 1689 Baptist Confession), with revisions mainly based upon the work of the Elders of Trinity Baptist Church, Montville, NJ; The Reformed Baptist Church, Grand Rapids, MI; and The Grace Reformed Baptist Church, Mebane, NC. The ultimate authority in all matters of faith, order and morals is and must be the bible alone, which truth is clearly set forth in the opening article of the Confession itself. This historic document, albeit imperfect, is an excellent summary of "the things must surely believed amongst us"' and we find it to be an assistance in controversy, a confirmation in faith, and a means of edification in righteousness.

Possible future revision of the 1689 Confession of Faith. Although the 1689 Baptist Confession of Faith is a comprehensive summary of our doctrinal distinctives, nevertheless, because it was written in the 17th century, it could not have anticipated and addressed adequately all the relevant issues of our day. Furthermore, since the 1689 was written by fallible men, it might lack precision in articulating the "things most surely believe amongst us" in certain areas. Therefore we make provision for the possible future revision of our confession of faith. This future revision, however, must be done cautiously, and prayerfully, never precipitously or presumptuously. Furthermore, it must not in any way alter the distinctives of our doctrinal heritage as defined in our articles of faith, namely, our Orthodox, Covenantal, Calvinistic, Puritan, and Independent/Baptistic distinctives. Therefore, any proposed revision must be distributed to the congregation in written form at least one month prior to its public consideration and adoption. And, since this process of revision concerns the entire church, this Confession may only be amended by a three-fourths majority of the members present and voting at a duly convened business meeting of the congregation.

Any future amendments of the Confession shall be listed in writing at the conclusion of the Confession, and subsequently published along with it as part of our doctrinal commitment.
Next



disable pop-ads